Shower Resurfacing: How it Works & FAQs
Posted by BathroomWerx on 16 June 2022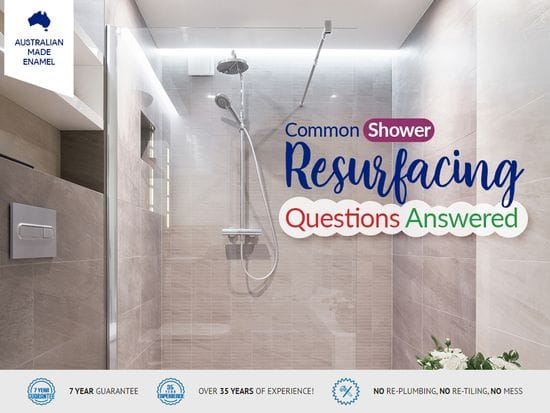 Considering resurfacing your shower or bathroom?
You might be curious to know how resurfacing or re-enamelling works with your bathroom and your shower. Bathroom Werx can help with our simple list of frequently asked questions.
Bathroom Werx has expanded on your frequently asked questions on resurfacing baths and wall tiles, as we're hoping to elaborate more on how it works and why more Australian homes are using the technology.
If you're considering resurfacing your shower base or walls, you might be considering the following frequently asked questions and concerns.
Shower Resurfacing FAQs
1. Can you resurface your shower?
Yes, you can resurface or re-enamel your shower if it is old, damaged, or you'd just like to change its colour. Similar to your bathtub or tiles, spraying a new coat of enamel can help to fix cracks and appearances in your shower.
2. How does shower resurfacing work?
Resurfacing your shower includes first cleaning up the area, fixing damages, then applying a new coat of enamel. A BathroomWerx expert will go through the following steps when re-enamelling your shower:
All chips and cracks will be repaired and sealed

Loose and discoloured grout will be removed and replaced

The shower surface will be thoroughly cleaned and prepared for a new coat of enamel

The Werx Enamel Coating will be sprayed to resurface the shower.
3. Is shower resurfacing safe?
Resurfacing or reglazing is a safe, cost-effective solution that is completely safe when applied by experts and trained professionals. Most dangers associated with re-enamelling are only in the application of the spray which is why we don't recommend DIY resurfacing kits.
Resurfacing your shower base can actually help to make your bathroom safer with anti-slip treatments that reduce the risk of falls and serious injury.
4. Can you resurface the shower walls?
Yes, you can almost always resurface your shower walls with a new coat of enamel. Many materials can be coated including porcelain, acrylics, ceramics and more. Your tiles can be re-enamelled to match the colour of other surfaces in your bathroom like the outside tiles or shower base.
5. Can you resurface the base of your shower?
Your shower base can easily be resurfaced with a new coating to help seal cracks, chips, leaks, and other damages. New coats of enamel can be applied onto most commonly found materials in Australian homes, meaning your shower base is a likely candidate for resurfacing.
6. Which materials can you resurface in a shower?
New coats of enamel can be sprayed onto most bathroom surfaces including your bath, wall tiles, vanity, basin, and shower.
Shower bases in Australia are usually made from acrylic or polymarble, but some homes have glass, ceramic or porcelain tiles, or steel. Luckily, all of these can have a new coating applied and have years added to their lifespan.
7. Can you resurface a bath and shower at the same time?
But what if your shower is a shower bath combo? Shower baths are common in smaller Australian homes and those that want to maximise space. Fortunately, they're simple to resurface as most enamel coatings can be applied to bathtubs, too.
Bathtubs in Australian homes are most commonly made from acrylic, steel, and cast iron, and if you spent time picking out the perfect bathtub for your needs, you'll be glad to know that you can almost always resurface it.
8. What colours can you resurface?
When you re-enamel your bathroom, you might be concerned about whether or not you can match the materials of your existing fixtures and tiles.
Fortunately, resurfacing solutions, like BathroomWerx's Australian-made enamel, can be colour-matched to the rest of your bathroom. That means that your shower base or walls can be resurfaced to match existing colours or to create completely new ones.
And if you're looking for a complete bathroom makeover or renovation, you can resurface all the fixtures in your bathroom to match.
9. Do resurfaced showers look good?
Resurfacing showers is a cost-effective solution to creating that 'new bathroom' feel without the expenses and added hassles of renovating. It looks great and can last for many years to come, making it an easy solution for your next shower and bathroom makeover.
If you're considering it, take a look over some bathroom before and afters with shower resurfacing.
10. Can resurfacing extend the life of my shower?
When applied by an expert, resurfacing any fixture in your bathroom can help in fixing previous damage and extending its life. Many Australians choose to resurface rather than replace their fixtures.
Regardless of the material, colour, or shape of your shower, having a new layer of enamel coating applied can help make it more durable and future-proof.
11. Can you resurface a shower yourself?
Respray and DIY resurfacing kits are readily available on the shelves of many hardware stores, but oftentimes they aren't as durable as professionally made and applied enamelling alternatives. Plus, you won't be able to match the colours in your bathroom or customise your options as widely.
There are also many dangers involved with DIY resurfacing kits. Usually, when it comes to resurfacing any fixture in your bathroom, it's best to leave it to the experts who create a durable, Australian-made enamel fit for your shower.
12. How much does it cost to resurface a shower?
Resurfacing is almost always a cheaper option compared to replacing shower tiles, bases, or other fixtures in your bathroom.
It's cost-effective and can add years to the life of your existing fittings by eliminating chips, cracks, and other damages by applying a new layer of durable enamel to protect it.
You can get a quick, no-obligation quote for free from Bathroom Werx to resurface your shower or other bathroom fixtures by booking online.
Or, if you'd prefer to talk to a member of the team over the phone, we've got locations across Australia in Melbourne, Sydney, Perth, Geelong, Adelaide, and Wollongong. Give us a call now on 1800 644 171, or book a time for us to call you.