Bath Resurfacing & Bathroom Renovations Wollongong
Bathroom Werx provides bathroom resurfacing services to all areas of Wollongong and the Illawarra region.
The Illawarra and Southern Highlands now get to Breathe NEW life into their old bathrooms
Matthew Humphrey & Victoria James are proud partners in the National Bathroom Werx network and service the Wollongong and Illawarra region.
Home owners in the Wollongong and Illawarra region are now able to take advantage of Bathroom Werx's unique bathroom re-enamelling services which will make their old bathrooms look like new again without the hassle and expense of replacing.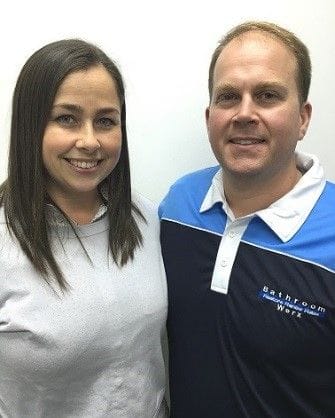 The traditional method of bath renovation involves ripping out all the fixtures and fittings in a bathroom, buying new fixtures and fittings, and then trying to organise tradesmen to come in one after the other to put it all back to together again. This process can take weeks as it is often very difficult to get tradesmen to show up on time and in a bathroom resurfacing, one tradesman has to finish their part before the next one can come in any delays by one trade person can ripple through the project and extend the time it eventually takes.
The Bathroom Werx alternative to expensive bath renovation provides a solution to all the hassle and expense of renovating by resurfacing your bath, basin, shower base, and wall tiles in situ without any costly removal or expensive re-plumbing.
Wollongong Bathroom Werx offers a unique Bathroom Resurfacing Service that will make your bathroom look like new again for a fraction of the cost of replacing.
Matthew Humphrey and his wife Victoria James are excited to be offering Bathroom Werx services to home owners as they will be able to save them thousands of dollars in renovation costs and get them back into their new bathroom in most cases in under two days!
Previously Matthew was in the Royal Australian Navy working at HMAS Albatross in Nowra as an Aircraft Maintenance Engineer. After that he studied and worked as an Architectural Draftsman before spending the last 9 years working in the Oil and Gas Industry.
Victoria has a Bachelor of Science degree and her career has mainly been in Corporate Sponsorship and Event Management before taking time off to raise their children. As the children are older now, she has partnered with Matthew in the Wollongong Bathroom Werx venture and they are both ready and excited to be servicing the Bathroom resurfacing needs of the Wollongong, the Illawarra and the Southern Highlands area.
You can contact Matthew and Victoria on 1800-644-171 as they service the Wollongong and Illawarra region.
They offer no obligation free appraisals and are happy to give you some great money saving ideas and show you how to "Breathe NEW life into your old bathroom".
Bath renovation services offered by Mathew and Victoria include:
Resurfacing of Baths, Basins, Shower Bases & Tiles.
Chip Repair service for baths, basins, tiles, shower bases, and spa's.
Mould & Mildew Resistant Coatings for Wall Tiles - makes cleaning tiles a breeze!
Stain Removal & Polishing Service for baths, basins, shower bases and spa's.
New Colours for Wall Tiles in your bathroom without any costly removal.
A new Shower Base in just 6 hours - make your old tiled or concrete shower bases look like new with our unique resurfacing techniques!
A NEW solid brass waste cover for your Bathtub & Basin will make your old tired wastes look like new again without costly removal of the old!
Bath-Seal - replace that ugly & mouldy silicon between the bath and the tiles with our unique and permanent solution.
Anti-Slip Grids can be applied to the bottom of a bathtub or shower base during re-enamelling to make the bathtub and shower base more 'slip-resistant'.
Anti-Slip Surface Treatment for Ceramic Floor Tiles and Bathtubs.
Antique Cast Iron Bathtubs on feet and Pedestal Basins - restoration and sales.
If you are looking for top quality bath resurfacing service in Wollongong and the Illawarra region, our team of experts offer the cost effective in a timely manner for your bathroom transformation.
Call NOW on 1800-644-171 to get a free quote.