Cracked Sink Repair - Should You Fix the Cracks in Your Bathroom Sink?
Posted by BathroomWerx on 16 December 2021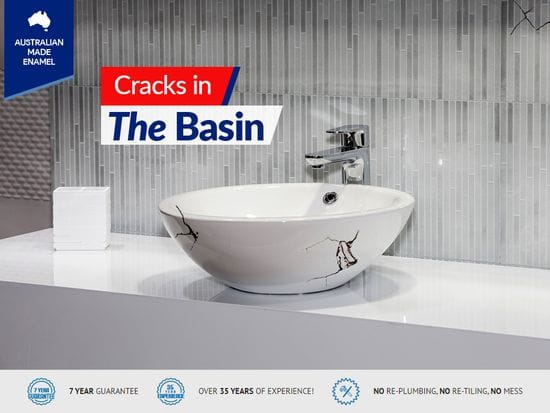 Cracks in your bathroom sink happen. Cracks happen in your bathroom vanity too.
But should you be concerned about it?
Yes, thin hairline cracks in your bathroom are symptoms of bigger problems and you should fix them as they appear.
Why your bathroom sink is cracking
The most common causes of bathroom sink cracking in Australian homes include:
Drastic temperature shifts
Like a lot of household objects or fittings, drastic temperature changes cause damage to bathroom sinks.
Repeated temperature shock can lead to swelling and cracking of your porcelain and enamel.
Impact damage
Porcelain can be fragile and bathroom sinks can crack when heavy or sharp objects hit them.
Rust build-up
Many vanity and bathroom sink manufacturers use metals to reinforce the strength of the porcelain. Unfortunately, metal can rust when exposed to water and steamy air over amounts of time.
That rust build-up can lead to swelling, warping, and cracks in your bathroom sink.
Age
Every material will age over time. With that age, bathroom sinks can begin to show hairline cracks.
To make your sink last longer, you should repair these hairline cracks as soon as you can.
Contact us to learn more.
Bigger risks of cracks in bathroom sinks or basins
If left untreated, cracks in bathroom sinks can lead to:
Surface warping

An increase in mould growth

Water escaping and damaging your internal walls and vanity
And the same goes for cracks in your bathtub or shower as well. Learn about the dangers of cracks in your bathtub in How Much Damage Do Cracked Baths Cause?.
How to care for your bathroom sink or basin
You can reduce the risk of cracks in your bathroom sink or basin by continually caring for it. Follow the next three easy steps to correctly care for your basin and help to prevent cracks.
Repair the cracks as soon as you can
Knowing that cracks in your bathroom basin can lead to more serious problems, you should repair them as soon as you can.
Many homeowners repair their sinks using DIY solutions like epoxy and DIY enamel kits, but there are more dangers involved. Learn about the risks involved with DIY re-enamelling or resurfacing in The Dangers of DIY Bath Resurfacing Kits.
The best way to repair cracks in your bathroom basin (or anywhere in your bathroom) is to request a free quote for repairs or resurfacing. An experienced professional will examine your basin and determine the best actions to fix your bathroom cracks.
Clean your sink often
Cleaning your sink with non-abrasive materials will help to reduce the risk of cracks appearing. Even cleaning away toothpaste, chemicals, and other debris daily will help to prolong the life of your basin.
Use warm water instead of hot
Using warm water instead of hot or boiling water will greatly reduce the risk of damaging your basin.
If you need to use a hotter temperature, you should gradually introduce the temperature change instead of shocking your sink.
You don't need to replace your bathroom sink or basin if it has cracks
Most cracks and bruises in your bathroom can be fixed with care and resurfacing.
And when you choose to resurface your basin instead of replacing it, you can still change the colour, style, and feel of your entire bathroom.
Compared to replacing your bathroom basin, resurfacing will usually cost a fraction of replacement fees.
See examples of bathroom vanity resurfacing in our gallery.
Or learn if resurfacing and re-enamelling your bathroom is right for you by booking a free quote.
Call now on 1800 644 171 or contact us online.