Breath new life into your Bathroom
Bathroom Werx provides bathroom resurfacing services to all areas of Melbourne.
From Beaconsfield to Werribee From Portsea to Craigieburn we've got all of Melbourne covered!
Renovation a small and wet area in the house becomes very tricky when the plumbing works can be involved. There are lots of cost than meets the eye. That is the reason why choosing Bathroom Werx for your set budget is a wise choice for bath resurfacing.
For household or commercial bath renovations, our staff can give you a quote over the phone so you can match with your budget. Moreover, the team of Melbourne Customer Service is ready to go on the field to suggest the most affordable price for your dream bathroom transformation.
Our unique bath renovation methods brings you NO mess and hassle so you don't need to worry about mountains of dust for days in your house.
Melbourne Bath Renovation Services include:
Resurfacing of Baths, Basins, Shower Bases & Tiles.
Chip Repair service for baths, basins, tiles, shower bases, and spa's.
Mould & Mildew Resistant Coatings for Wall Tiles - makes cleaning tiles a breeze!
Stain Removal & Polishing Service for baths, basins, shower bases and spa's.
New Colours for Wall Tiles in your bathroom without any costly removal.
A new Shower Base in just 6 hours - make your old tiled or concrete shower bases look like new!
A NEW solid brass waste cover for your Bathtub & Basin will make your old tired wastes look like new again without costly removal of the old!
Bath-Seal - replace that ugly & mouldy silicon between the bath and the tiles with our unique and permanent solution.
Anti-Slip Grids can be applied to the bottom of a bathtub or shower base during re-enamelling to make the bathtub and shower base more 'slip-resistant'.
Anti-Slip Surface Treatment for Ceramic Floor Tiles and Bathtubs.
Antique Cast Iron Bathtubs on feet and Pedestal Basins restoration and sales.
---
Meet our Melbourne Technicians:
Melbourne East
Dennis Huang - Bath Renovation Technician and Franchisee
Being one of our most experienced Franchisee Resurfacing Technician, Dennis joined Bathroom Werx in 1996 and since performs consistently high quality bath renovation work for his customers.
Dennis' original goal was to work his business to get his daughter through medical school which he has now successfully done!
As years gone by, Dennis is renowned for producing the highest quality resurfacing work and unique colour matching skills which customers continually praise him for!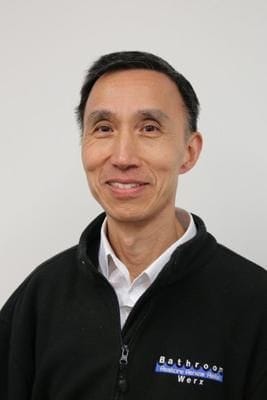 ---
Melbourne North East
Lou Schillacci - Bath Renovation Technician
Lou has been with Bathroom Werx since August 1999 and is one of our most experienced Franchisee Technicians.
Lou Schillacci has an accounting background but really loved hands on work and joined our business as a proud owner of his own franchise. He consistently produces high quality bath resurfacing work for his customers and is well known for his great bath repair skills. Lou is continually getting great feedback from his customers.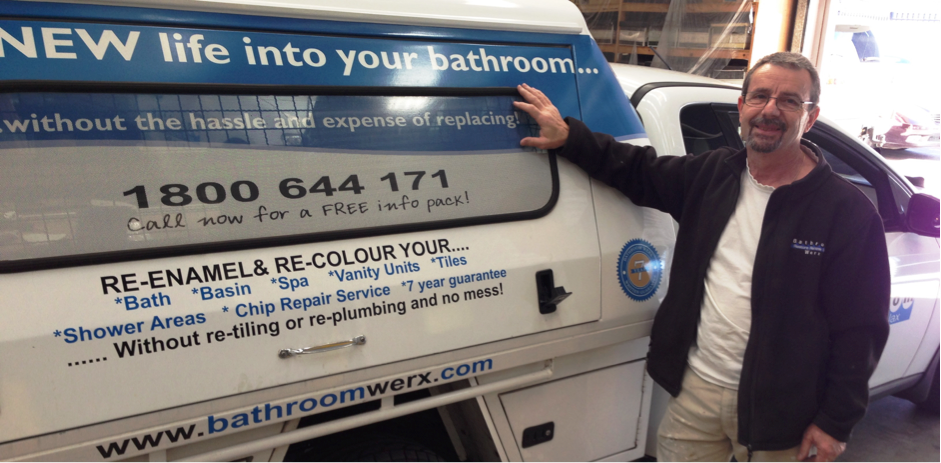 ---
Melbourne
Cameron Jeffrey - Bath Renovation Technician
Cameron has been with Bathroom Werx for over 15 years. When it comes to quoting bathroom renovation, Cameron is the expert. He has been in over 10,000 bathroom over the last 15 years and has seen it all.
When it comes to some great money saving ideas on Bathroom Renovation, Cameron will help you achieve your budget and bath transformation goals.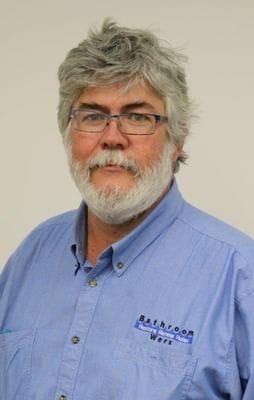 ---
Melbourne
Gary Edwards - Bath Renovation Technician
Gary has been with Bathroom Werx since 1992. He has grown with the company and has been a great contributor to our continued success. He currently holds the position of National Training Manager and is loved by all!
Gary's background is as a trade qualified spray painter and has used his skills over the years to help improve the quality of all our technicians' bath resurfacing works.

Along the road, Gary has trained every technician who has been through the place. There is not much about Bathroom Renovation that Gary hasn't seen or doesn't know.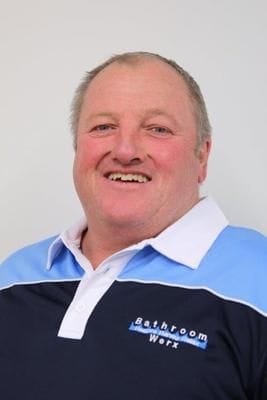 ---
Melbourne
Faysol Wehbe - Bath Renovation Technician
He started with Bathroom Werx in 1989 and is the expert in restoring antique cast iron bathtubs on feet back to NEW again.
Having worked on "Ball&Claw" baths for over 28 years, he has become Australia's leading expert on antique bathtub restoration having restored over 3,500 old bathtubs in his time.
There is not much about antique cast iron bathtubs on feet restoration and resurfacing that he doesn't know about! That's what we call him "The Master Resurfacer".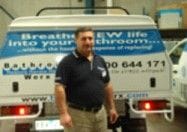 ---
Melbourne
Darren Barker - Bath Renovation Technician
Darren is a trade qualified Painter and Decorator and has over 20 years' experience in applying coating to various structures and substrates.
With his experience, Darren brings some serious painting skills to Bathroom Werx.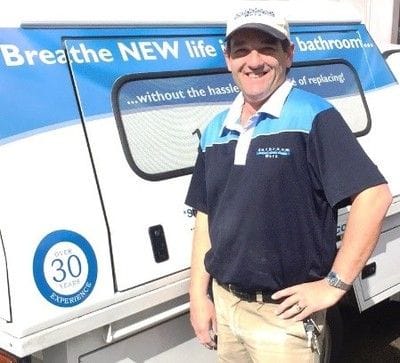 ---
Melbourne
Andrew Joynt - Bathroom Renovation Technician
Andrew joined the Bathroom Werx team in early 2016.
He has already proven his technical skills and has quickly become a very accomplished technician and is competent at resurfacing any fixture or fitting in a bathroom.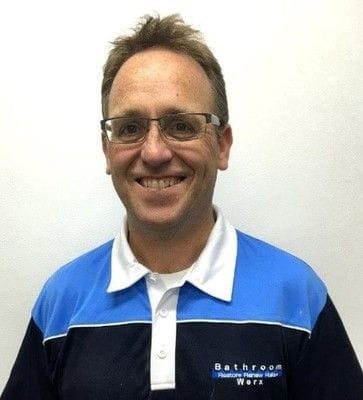 ---
Melbourne
Chris Wright - Bathroom Renovation Technician
Chris is our newest addition to the Bathroom Werx family. He has a fine attention to details and a passion for restoring and renovating bathrooms.
His building and construction experience has put him in a great position to be an excellent bath renovation technician and his resurfacing skills are already second to none.
---