Breathe NEW life into your Bathroom with resurfacing using our unique Bath re-enameling process!
Bathroom Resurfacing Services to all areas of Adelaide
From North to South and from East to West we've got all of Adelaide covered!
Bathroom is not only a place for wash up but also your relaxation zone when you can soak yourself in the hot steamy bathtub, sipping some wine after a long day at work. For that transformation, either a large or small bath space, the budget for bath renovation should be set wisely. With the important decision to renovate your bath, our experts from Bathroom Werx Adelaide will help you to transform your bathroom using their enamel bath resurfacing techniques with the most reasonable price.
For more complicated jobs, our local Adelaide Senior Technician James Manning can come and talk to you about many ways that Bathroom Werx can breathe NEW life to your bathroom yet save you money, time and hassle. Our unique bath resurfacing methods means that here is No Mess & No Fuss - just a beautiful NEW bathroom for a fraction of the cost of replacing!
Adelaide Bath Renovation Services include:
Resurfacing of Baths, Basins, Shower Bases & Tiles.
Chip Repair service for baths, basins, tiles, shower bases, and spa's.
Mould & Mildew Resistant Coatings for Wall Tiles - makes cleaning tiles a breeze!
Stain Removal & Polishing Service for baths, basins, shower bases and spa's.
New Colours for Wall Tiles in your bathroom without any costly removal.
A new Shower Base in just 6 hours - make your old tiled or concrete shower bases look like new!
A NEW solid brass waste cover for your Bathtub & Basin will make your old tired wastes look like new again without costly removal of the old!
Bath-Seal - replace that ugly & mouldy silicon between the bath and the tiles with our unique and permanent solution.
Anti-Slip Grids can be applied to the bottom of a bathtub or shower base during re-enamelling to make the bathtub and shower base more 'slip-resistant'.
Anti-Slip Surface Treatment for Ceramic Floor Tiles and Bathtubs.
Antique Cast Iron Bathtubs on feet and Pedestal Basins restoration and sales.
---
Call NOW on 1800-644-171 to get a free quote.
---
Meet our Adelaide Team Members :
Manning - Senior Adelaide Bathroom Resurfacing Technician
James Manning has been with Bathroom Werx now for over 25years. He is one of the most experienced Bathroom Resurfacing Technicians in Australia having completed thousands of bathroom makeovers in his career. He also specialises in Floor Tiling.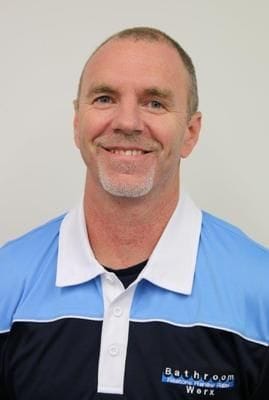 ---
Karl Herring - Adelaide Bathroom Resurfacing Technician
James Manning has been with Bathroom Werx on and off for 12 years. He is a Bathroom Resurfacing Technician having completed over five hundred bathrooms in his career.
Karl loves his job and continually gets good feedback from his Customers on how great his work is and how pleasant he is to deal with.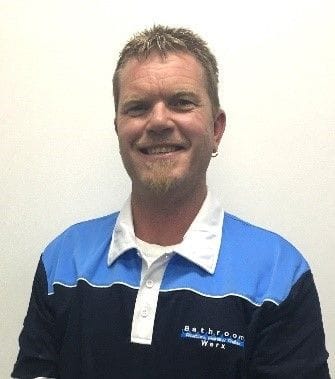 ---
Call NOW on 1800-644-171 to get a free quote.