Bathtub & Bathroom Tile Cleaner
---
Keep your bathroom looking brand new with Bathroom Werx's unique Bathtub & Tile Cleaner.
Specially formulated to use on our Werx Enamel, Bathroom Werx's Bathtub & Tile Cleaner is suitable for all surfaces in a bathroom.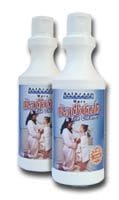 It is the perfect solution to clean and polish your bathroom enabling you to spend more time soaking in the bathtub rather than cleaning it!
Our Bathtub & Tile Cleaner contains a disinfectant to kill harmful bacteria, which can thrive in the moist conditions of your bathroom, and is designed to maintain the high gloss appearance of your re-enamelled fixtures and fittings so that they always look like new.
SPECIAL OFFER!
Click Here NOW to request a no obligation, FREE quote on your bathroom and we will give you a bottle of of Bathtub & Tile absolutelyFREE!