What You Can & Can't Resurface in Bathrooms
Posted by BathroomWerx on 16 May 2022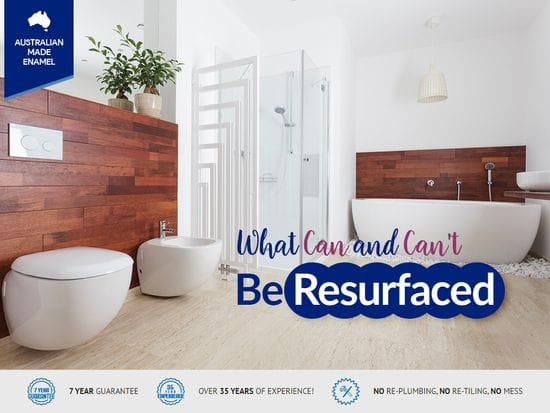 Reglaze, re-enamel, resurface, different names but the same process to apply new coats of colour and protection to bathroom fixtures.
Just about every material of tile, sink, basin, bathtub and shower can be resurfaced to prolong its life, repair it, or give your bathroom a makeover. And if you have a new fixture in your bathroom, you can resurface it to change its colour, or you can update your bathtub, shower, or basin to match it.
Bathtubs
Bathtubs are one of the most common re-enamelling jobs in Australian homes. Not only does it look great and give you a quick and easy refresh in your bathroom, but it's also usually cheaper than replacing your bathtub entirely or relining it.
Resurfacing or reglazing your bathtub has a bunch of benefits like:
Bathtub restoration

Repairing cracks

Prolonging life
You can resurface most materials of baths, including acrylic, plastic, fibreglass and cast iron, but there can be risks involved in DIY resurfacing kits.
Showers
Resurfacing and reglazing showers is common in Australia as a cheap alternative to replacing damaged tiles or renovating bathrooms.
Resurfacing showers is almost always cheaper than replacing, and it can:
Restore old showers

Change the colours of your shower

Repair chips and cracks

Add safety measures to the shower base like anti-slip treatments
Resurfacing works for most common materials in showers including tiles, fibreglass, plastics, and acrylics. Both the walls of your shower and the base can be resurfaced to make them look new again.
Bathroom re-enamelling services and resurfacing experts can create specific colours to match your existing bathroom fixtures or create new looks entirely.
Because 3700 injuries occur in Australian bathrooms each year (47% slipping and falling), many homeowners choose to add anti-slip treatments to their shower bases when resurfacing, too.
Wall Tiles:
Tiles in and around homes can crack from impact, poor installation, and general wear and tear. Bathroom tiles are among these, and because they're likely to get wet often, they should be fixed as they appear to avoid damage to your home.
Fortunately, resurfacing works on bathroom tiles, too. Both porcelain and ceramic tiles can be reglazed to:
Change their colour

Fix chips and cracks

Renovate or refresh your bathroom with a cost-effective bathroom makeover
You shouldn't hide or neglect cracks in bathroom tiles when there are easy fixes available. It's usually cheaper and easier to resurface tiles compared to pulling up, colour-matching and replacing.
What you can't resurface in your bathroom
Unfortunately, some bathtubs, showers, bathroom fixtures, and tiles can be beyond re-enamelling. Beneath the surface, fixtures could be falling apart from mould, mildew, and the effects of wear and tear.
At that point, it might be easier to replace fixtures or look into restoration services.
Fortunately, Bathroom Werx can colour match enamels and glazes. If you have new fixtures in your bathroom that don't match and you'd like to change their colour, you can reach out and have someone resurface them.
Not sure if your bathtub, shower, tiles, or other fixtures are able to be resurfaced?
Contact your closest Bathroom Werx and book a free quote for a bathroom resurfacing expert to take a look into your bathroom and determine your best options.
There are locations in Sydney, Melbourne, Perth, Adelaide, Geelong, and Woolongong and you can call now at 1800 644 171.