5 Small Ways to Make Big Differences to Your Bathroom
Posted on 17 November 2021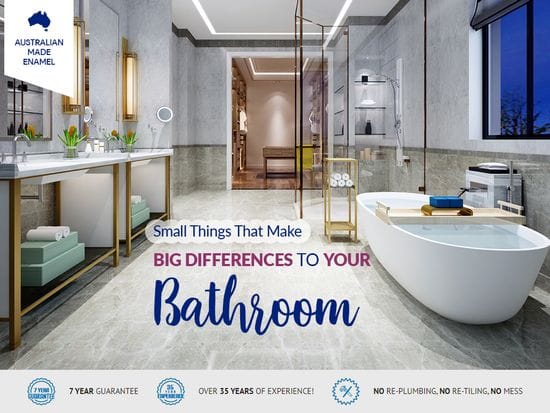 Your bathroom is one of the most important rooms in your home, and it can be one of the most expensive to change.
You can't simply buy a new bathtub like you would a chair in the living room, but you can make other changes that will create the same impact.
Here are our top 5 easy ways we think will make an old bathroom look new on a budget. They're small, but they create a big impact on your quick bathroom makeover.
Give your bathroom a deep clean
Starting off with the simplest, most basic way to bring your bathroom to the next level: giving it a good clean.
Your bathroom isn't home to much foot traffic compared to the kitchen, however, the constant water use, dirt, and grime build-up can take their toll on the room.
The easiest way to clean your bathroom is to use cleaning products designed for tiles, shower screens, and mirrors.
Bathroom specific cleaning products exist but they can be a bit hard to find. And once you've found one, you'll never go back to regular spray and wipe again.
There are even products built to get rid of unwanted germs and sanitize the area.
Improve your bathroom's lighting
Once your bathroom looks clean, sparkling, and amazing, shed some light on it!
Changing the lighting will not only improve the look of your bathroom and highlight your room, but it will also improve the mood.
Bathroom lighting choices are becoming more modern with designs like:
Spotlights

Downlights

Solar skylights

Built-in mirror lighting

Brackets and pendants
And with different finishes and materials, you can match a theme in your bathroom to make a huge difference.
Refresh your drains and fixtures (cheaply)
Replacing your drains or fixtures is one of the easiest ways to upgrade your bathroom without the need for plumbers or builders.
Your old outdated fixtures don't only look dated but could lead to further issues if left unchecked. With that in mind, replacing your drains and fixtures is a simple way to feed two birds with one scone.
If you're concerned about prices on replacing fixtures in your bathroom, there are really cheap and easy solutions that will quickly boost both the look and quality of your room.
Even small changes likereplacing your drain outlets with covers can increase the durability and appeal of your bathroom.
Upgrade your linens and fabrics
If you're like most Australians (and everyone else on the planet), you keep your towels in your bathroom where you would need them.
When your towels are hanging on their racks, they're a decoration that's visible to everyone in your home and other visitors too.
You could consider upgrading your towels and other fabrics with colours that match your bathroom's colour schemes or adding some extra colour to the room with modern designs.
Resurface your tiles, bath and even your shower
Resurfacing your bathroom can transform it entirely and is one of the best ways to make a huge difference. When you apply new coats of enamel to your bathroom fixtures, you can improve their durability, appearance, and their safety.
Though not as small as previously listed items, resurfacing a bathroom costs significantly less than most renovations and has been responsible for complete bathroom transformations.
Regardless of the decade your bathroom was built or last renovated, you can bring the look of your bathroom forward by decades by choosing sleek, modern bathroom tile and bathtub re-enamelling designs. Take a look at some before and after projects of some Australians who made huge differences in their bathrooms. If your bathroom is from the 1970s,1980s, 1990s, 2000s, 2010s, and before, resurfacing may be a great option for updating your bathroom, bathtub, and fixtures.
Applying new coats of enamel to bathrooms is also usually cheaper compared to replacing fixtures and tiles. Learn how much resurfacing costs in Australia or contact us to book a consultation and get an accurate price.
For more bathroom renovating and refreshing ideas
Take a look at the latest news from Bathroom Werx for the latest tips in our monthly blog.
Or if you want to get started on refreshing your bathroom with simple ideas that make a huge difference, contact us online or call us on 1800 644 171.
Bathroom Werx can provide a 100% free no-obligation quote, book your appraisal today.