4 Causes of Cracks in Bathroom Tiles and Easy Fixes
Posted by BathroomWerx on 15 March 2022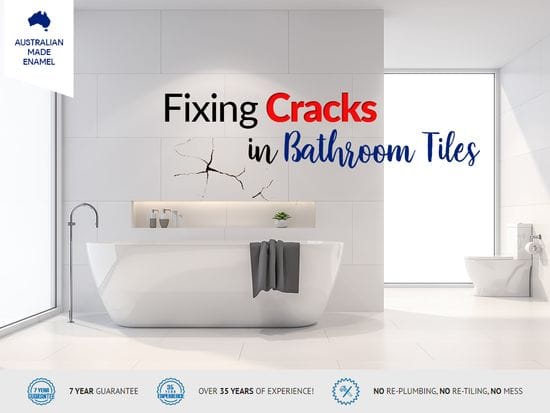 With time, cracks are inevitable.
But with the correct fixes and right aftercare, you can enjoy your bathroom tiles for longer without the stress of water damage and costly repairs.
Top 4 causes of cracks in your bathroom tiles
Most Australian bathrooms are filled with tiles made from ceramics or porcelain. And while both materials are strong and durable, they can be chipped or scratched over time.
Ceramic and porcelain bathroom tiles crack for a number of reasons including:
Direct impact from falling objects or moving furniture

Building movement (the expansion and contraction plus shifting of your home)

Poor installation

General wear and tear and lack of proper care
These tile cracks are most common in the shower, bath, and other fixtures, but can be found anywhere in your bathroom.
Should you fix cracks in your bathroom tiles?
You shouldn't hide cracks in your bathroom tiles. Instead, you should fix them.
You should fix even the smallest cracks in your bathroom tiles as they appear to stop them from growing and turning into more severe problems. Even hairline cracks can allow water through and damage your bathroom.
If you leave your tiles cracked, it can lead to:
Unstable surfaces

Mould build-up

Water damage to floors and walls
Similar issues can arise when you leave cracks in your bathtub, read Should I Fix Cracks In My Bathtub to learn more.
How to replace a cracked or damaged tile
Replacing a tile is an annoying and sometimes costly job as you have to:
Remove the broken tile and clean leftover glue

Find the same colour and pattern from a supplier (sometimes impossible)

Buy and apply glue to the surface, then replace your tile

Apply tile grout and finish with a waterproof bathroom-safe sealing.
How to fix a cracked tile without replacing it
You can fill in a cracked tile using epoxy and sealers, but off-the-shelf quick fixes from hardware stores aren't usually a permanent solution. It's usually safer to opt for more long term fixes like resurfacing or re-enamelling.
Resurfacing, or reglazing, involves adding a new coat of enamel to your existing tile. Avoiding replacement, re-enamelling is a cost-effective way to repair cracks in your bathroom tiles without the added hassles.
You won't need to worry about finding the right replacement either because the Bathroom Werx Enamel can match the specific colour of your existing bathroom theme.
Keep learning about Tile Re-Enameling Services.
How to tell if you should fix or replace a tile
Cracks in tiles, grout, and other bathroom fixtures are a serious matter and should be investigated by experts. Luckily, you can get a free consultation and have an expert check your tiles to determine the best course of action.
Bathroom Werx has locations in Melbourne, Sydney, Perth, Geelong, Adelaide and Woolongong, and can check the cracks in your bathroom tiles.
Call now at 1800 644 171, or avoid the queue and ask for us to call at a time that suits you. Want us to call you?
Or, find a date that you're available soon and book a free appraisal online.