Replace or Resurface Your Bathtub: 4 Questions to Ask
Posted by BathroomWerx on 17 February 2022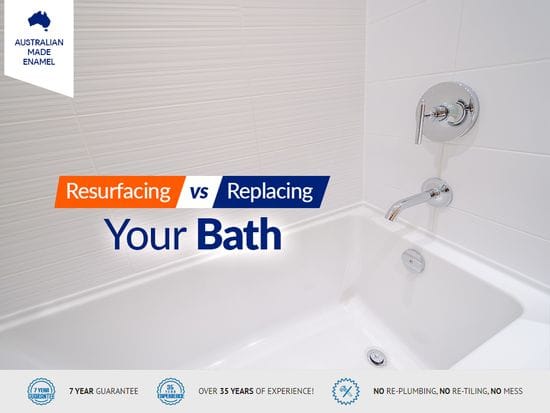 Has your bath seen better days?
Replacing a bathtub or any bathroom renovation can seem like a big effort. But, there's almost always an easy solution to difficult problems. In this case, its name is resurfacing.
Want to know if it's the right solution for your bath? Ask yourself the following questions to decide between replacing your bathtub or re-enamelling it for your upcoming bathroom makeover.
4 Questions to ask to decide between resurfacing, repairing, or replacing your bathtub:
When do I need to replace my bathtub?
Resurfacing doesn't only make a cosmetic difference, but it can improve the life and structural integrity of your bathtub.
Resurfacing your bathtub can:
Help deal with rust

Protect your bathtub liner

Deal with general age and wear and tear

Fix cracks and other dangers
However, if your bathtub has existing foundational damage, you may need to look into replacements.
How to know if your bathtub needs to be replaced:
Usually, you should fix, replace, or resurface your bathtub if it:
Has chips and cracks across its surface or on the caulking of the bath
Feels different to touch (it may feel rough or dry in places)
Lots of bathtub repair services can fix common problems found in bathrooms, and resurfacing is oftentimes a solution for most cracks, discolouration and visual problems.
Should you recoat your bath if it's stained or discoloured?
Most cosmetic changes are only that and won't affect the life of your bathtub, however, if it's chipped, scratched, or feels worn down, you should either replace or resurface your bath.
If you're concerned that your bath may have underlying damage or you're unsure about the life of your bathtub, ask a bathroom re-enamelling expert.
For an accurate assessment of your bathtub, contact Bathroom Werx for a free consultation. One of our bathroom experts will inspect your bathtub and determine whether it may need to be replaced or if you can resurface.
Book a free consultation online now.
Is it cheaper to resurface or replace my bathtub?
For Australian homes, it's usually cheaper to resurface or re-enamel your bath than replace it because the cost of materials and installation is usually more expensive than coating.
While at first, it may seem cheap to buy a new bathtub, there are several additional costs, including:
Removal of your old bath

Repairs to foundations following removals

Delivery and transport costs of your new bath

Installation

Polishing touches

Colour matching or new tiles for a splashback behind your new bath
And while you can DIY many jobs in your bathroom, bathtub installation and repair shouldn't have their corners cut. It's safest and almost always a good idea to let experts take control of your bathroom.
Opposingly, resurfacing is a one-time payment without the additional costs.
When re-enamelling or resurfacing a bathtub in Australia, you will be provided with an exact figure that you can budget for easier.
For more information on the costs of resurfacing an Australian bathroom, consider reading How Much Does it Cost to Resurface a Bathroom?
Which types of baths can be resurfaced or re-enamelled?
Reglazing and resurfacing work well on all materials of bathtubs, including cast iron, acrylic, and steel.
Because enamel coating is applied to your bathtub itself and not its underlying structure, most baths in Australia can be resurfaced, but methods may change.
If you're unsure what material your bath is made from, you can find out by following the following steps:
Use a magnet, and if it sticks to your tub, it's either cast iron or steel.

Examine the outside of your tub: If there are additional supports like thick, heavy feet, it's likely cast iron.

Firmly push on the side of your bathtub. If there is some give and it bends, it's likely acrylic.
Can I resurface my cast iron bath?
Cast iron baths require extra maintenance and care, but the work is worth it because they have the best heat retention of the three primary tub materials.
Bathroom Werx can restore and resurface cast iron baths to bring them back to their former glory. Learn more about Cast Iron Bathtubsand Bathroom Werx's restoration services.
Should my bathroom match my bathtub?
You can easily match your bath and tiles to each other by resurfacing them.
And while it's only a cosmetic difference in your bathroom makeover or renovation; Bathroom Werx can match the colours of your tiles in your bathroom when resurfacing your bathtub, or change the colours of your tiles to match instead.
Or, if you want to create a different colour in your bathroom without removing tiles entirely, we can do both. We can even resurface other bathroom fixtures like basins and showers.
See before and afters and learn more aboutbathtub resurfacing.
Contact Bathroom Werx for a free consultation online or call 1800 644 171.