How to Bring New Life Into Your Bathroom Without Breaking the Bank
Posted on 21 June 2021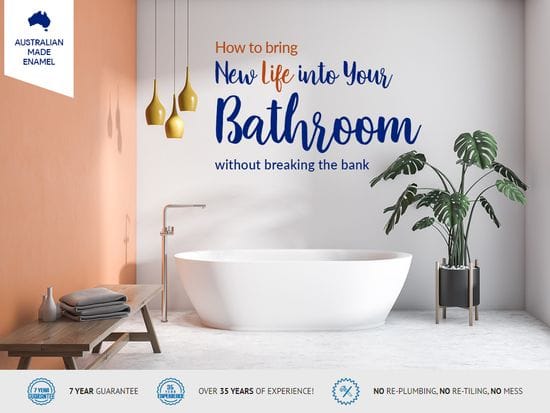 Your bathroom is one of the most important rooms in your house and can often be a bit of a pain to keep looking nice. Here are some tips to keep your bathroom clean and looking the best it can.
Give your bathroom a good clean, more than a scrub!
A good deep clean will revitalise your bathroom and make it look brand new.
You can keep your bathroom looking brand new with Bathroom Werx's unique Bathtub and Tile Cleaner which is specifically formulated to use on our Werx Enamel. It's suitable for all surfaces in a bathroom and can revitalise the room without paying for costly renovations.
It's also a disinfectant that will help keep your bathroom germ free! Find out more about it or buy it here.
Bathroom Werx also offers a professional bathroom surface cleaning service that can help extend the life of your bathroom and get it looking new again.
It's important to avoid using abrasive cleaning materials and products as they could do more harm than good to your bathroom. It's probably a good idea to avoid:
Steel wool
Abrasive pads
Applicators on a re-enamelled area
Abrasive cremes
Bleach
Find out more about cleaning your bathroom and our products here.
You can also contact us or call 1800-644-171.
Houseplants for the bathroom:
Do plants like being in the bathroom? Yes, houseplants love to be indoors in any room of your home with good natural lighting and humidity. Your bathroom is a great environment for most indoor plants.
Plants bring life and colour into any room of the house but some absolutely thrive in the humid environment of a bathroom. And while they won't be any replacement to having a fan in your bathroom to remove steam, they're said to greatly improve air quality by filtering out nasties in the air. Once you're all done giving your bathroom a makeover, check out NASA's study into clean air and houseplants.
Common houseplants in Australia that thrive in bathrooms include:
Aloe plant
Snake plant
Alocasia
Air plants
And if you're looking for native Australian plants for indoors, the following are perfect for your bathroom humidity:
Elkhorn fern
Staghorn fern
Bird's nest fern
Kentia palm
Most of these are relatively carefree plants and will adore their humid spot and give your bathroom a makeover by adding new life.
Resurfacing your tiles, bath and shower:
The Bathroom Werx resurfacing process is a great way to make your bathroom look like new again. A cost-effective alternative to changing the colour scheme of the existing wall tiles in your bathroom.
Resurfacing can be used to repair worn out, chipped and damaged surfaces. It can even be used to change the colours of your bathroom.
It's a cost-effective way to recreate your bathroom without renovating it. You can find out more about our service here.
When applying the WERX Enamel over your existing tiles or shower and bath, we carry out the following work:
Removing mould and mildew from grout and tiles
Repairing all chips and cracks in tiles
Chemically preparing bathroom surfaces and applying the new WERX Enamel
Bathroom tiles will be super easy to clean, only needing a quick wipe over to make them look brand new again.
You can book a free quote here.
Looking for more information about our re-enamelling services? You can request a free info pack here or read more on our website here.