4 Ways to Create More Space in the Bathroom
Posted on 18 October 2021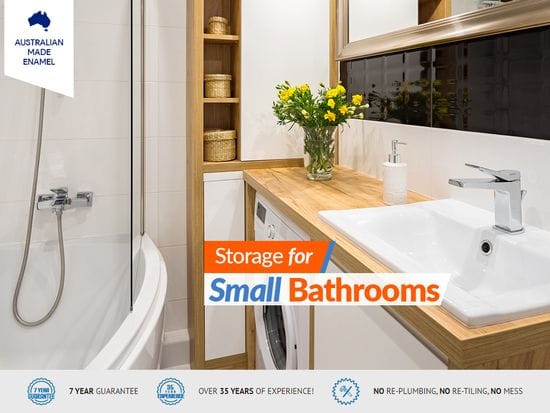 A small bathroom doesn't have to mean small ideas. Here are four ways to create more space for bathrooms, big and small.
Change your door
The entry/exit of your bathroom can take up a lot of space. Most Australian homes and bathrooms are built with swinging doors because they're cheaper and easier to install. But that doesn't mean that they're better.
You can save that space that a swinging door uses by opting for a sliding door instead. They take up no space inside the bathroom and they look just as good, if not better.
If you don't have space to install a cavity sliding door for your bathroom, you can install one on tracks either inside or outside your bathroom. You can even use your sliding door as a feature piece like the currently popular barn door look.
And even then, it's going to save you space.
Your bathtub and shower design
Your bath and shower probably take up the most space in your small bathroom, so choosing space-saving tips for these are super important.
When choosing a bath or shower for a small bathroom, you might want to consider the tips from one of our recent blogs, The Definitive Guide to Buying Your Next Bathtub.
In that blog, we discuss the pros and cons of different types of baths and showers including their price, heat retention, and the space they take up.
For a small bathroom, many Australians do away with bathtubs altogether and choose to only keep a shower. If you're like most of our customers though, the bathtub is an absolute must!
Because of that, many of our customers consider a bath/shower with pivot screens or sliding curtains.
Wall storage
When renovators measure their bathrooms for storage spaces, they consider the vanity and towel racks… but they should also think about measuring for more shelving.
A vanity can take up a huge amount of space and the payoff isn't always worth it because it uses floor space as well as wall space.
Wall based shelves are an awesome alternative for storing products like soaps, shaving supplies, and towels. More than just storage, they're a display as well. You can show off your favourite towel colours, or maybe a pot plant or two.
Ditch the shower caddy
Speaking of saving space and using walls, it might be time to ditch the shower caddy.
Though a cheap way to add extra storage to the bathroom, a shower caddy can be a nuisance to clean because soaps and shampoos can leak.
And if your shower caddy is one that hangs over your shower head, you could be causing damage to it by adding extra weight and constantly shifting it.
The best alternative to using a shower caddy is a built-in shower niche. Shower niches are being added in many Australian home renovations because they look good, are easy to clean, and can store heaps.
What's more, if your bathroom niche is set up with aneffective enamel solution, cleaning will be an absolute breeze.
If you're worried about the style options of your caddy and customisation, you can easily resurface your tiles too. Learn more about resurfacing here.
More tips:
For more bathroom tips that will help you save money, and spruce up your bathroom, check out our recent blogs here.
Or read more about Bathroom Werx's products and services here. Or contact us on 1800 644 171 or online.