The Definitive Guide to Choosing Your Next Bathtub
Posted on 26 July 2021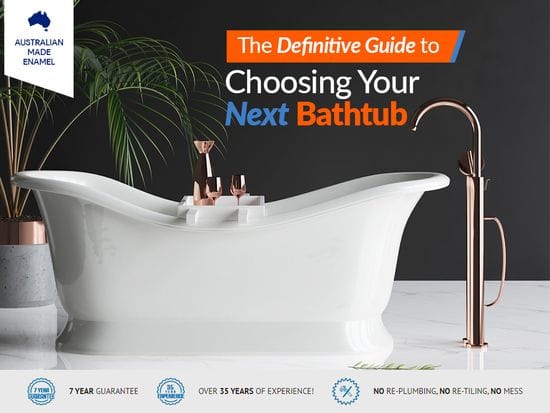 It's the centrepiece of any modern bathroom, but how on earth do you know which is right for you and your desired style?
When you picture your dream bathroom, what sort of bath is in there? Is it free standing? What is it made of? Maybe you haven't thought that far ahead just yet. No problem, welcome to the definitive guide to choosing a bath:
Types of Baths
Freestanding
The freestanding bath is for the person that wants the bath as the centrepiece of the bathroom, quite literally. A freestanding bath is luxurious and isn't against any wall but in its own designated position in the room. This isn't the best option for those that want to save space in their bathrooms.
Built-In Baths
Built-in baths are cost and space effective. They're a great option for long or narrow bathrooms as they're built up against walls.
Shower Baths
Feed two birds with one scone with this option. Shower baths aren't as popular in Australia as their alternatives but they have their place in many homes as they're the best way to save space in bathrooms without sacrificing having a bath entirely.
Corner Baths
Likely the rarest choice in Australian homes, this type of bath certainly has its place in your list of considerations. Corner baths are a great option for those unusually shaped rooms. They're also super spacious without taking up too much space.
Bath Materials
Acrylic
Acrylic baths are the most common as they're cost effective and are durable.
Steel
Steel baths are less common and more expensive than their acrylic counterparts. They're expected to retain heat better than acrylic and are also supposed to be more scratch and impact resistant.
Cast Iron
Cast iron bathtubs are a bathroom talking point to say the least. Cast iron bathtubs are a classic showpiece of Australian home history and are traditionally beautiful while modern at the same time.
Click here to read more about cast iron bathtubs on our dedicated page.
Don't Forget the Taps
If you've ever sat in a bath and been annoyed by the taps digging into your head or back, you'll understand the importance of considering where your taps are placed.
Double-Ended Baths
These baths have their taps and drainage in the centre of the tub. They're a great option for taller people or for bathing the kids.
Single-Ended Baths
These baths are a bit more common in Australia, they have their taps and drainage on one end of the tub. These bath types may be more cost-effective but they can restrict which ways you can sit in the bathtub.
The Best Way to Save Money
If you're looking for a new bath without the bathroom remodel, consider our bath re-enamelling services. You can:
Remove all rust
Repair all chips
Repair any other damage or surface imperfections
Update your style to a more modern and attractive option
Talk to us about remodelling your bathroom without breaking the bank by calling 1800 644 171 or request a call back by clicking here.
You can also book a free bathroom appraisal in your home today.