6 Common Resurfacing Questions Answered
Posted by BathroomWerx on 18 January 2022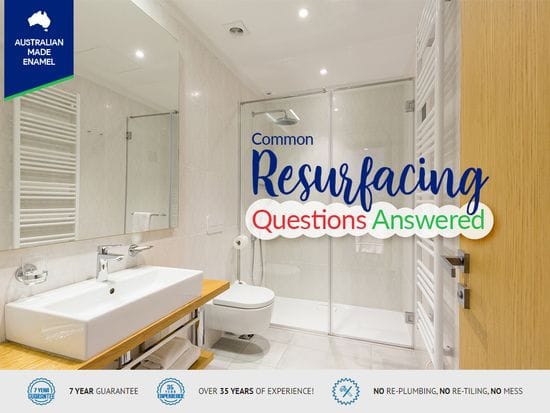 What does resurfacing or re-enamelling tiles mean?
Tile resurfacing is also known as re-enamelling and reglazing. Bathroom Werx in Australia most commonly refers to it as resurfacing and re-enamelling.
How does resurfacing or re-enamelling work?
Resurfacing or re-enamelling tiles follows the following steps:
Your tiles and grout get entirely cleaned of mould, mildew.

All chips and cracks in your tiles get repaired

New grout is then used to fill gaps where necessary

Your bathroom is chemically treated and sterilised, ready for a new glaze.

The Werx Enamel is applied over your newly treated tiles, leaving them looking brand new.
Bathroom Werx's WERX Enamel can be mixed to any colour, meaning we can match existing fixtures in your bathroom or create a completely new feel.
Many Australians choose to resurface their bathrooms instead of completely renovating to save on substantial costs like:
Destruction and disposal of old tiles

The cost of purchasing the new tiles

Delivery and installation of new tiles, plus cleaning and finalising.
Additionally, when retiling your bathroom, you might not be able to use it for several days or even weeks.
Resurfacing tiles avoids the costs and hassles of a typical bathroom or kitchen renovation.
Read more about Bathroom Tile Re-enamelling.
Can you resurface a bath or shower?
You can easily have your bathtub or shower base resurfaced. And, it's a great way to be environmentally positive and cut down on renovation waste in landfills.
And, regardless of the material coating your bath or shower base, it's usually more cost-effective.
Learn more about Recycling Bathroomsand the positive steps you can take.
Learn about bathtub resurfacing.
Learn about shower base re-enamelling.
Is bathroom resurfacing safe?
Bathroom resurfacing is a safe way to bring new life into your home. We make bathroom Werx's signature enamel, so we know what goes in the mix. In fact, we can guarantee its quality.
With over 30 years of experience, we provide our clients with aFull 7 Year Bathroom Werx Guarantee.
Bathroom Werx can make your bathroom even safer by providing an anti-slip treatment for baths, shower bases and floor tiles.
Can you do it yourself? Is DIY resurfacing easy?
Though resurfaced or reglazed tiles are entirely safe, thedangers of using DIY resurfacing kits should be considered.
It isn't recommended that homeowners take on DIY resurfacing renovations to their kitchens or bathrooms because of the risks involved.
Instead, book a free quote or grab yourself a free info pack to learn more.
How much does it cost to resurface or re-enamel?
Resurfacing is almost always cheaper than replacing baths, shower bases, and tiles. It's also faster and easier to reglaze than to replace.
For price guides on resurfacing, you can learn about variables involved in How Much Does it Cost to Resurface a Bathroom?
Contact us for a thoughtful response and an accurate estimate on the cost of resurfacing your kitchen or bathroom.
You could also Book a Free Quote, and one of our experts will assess your bathroom and provide you with a considerate recommendation and price estimate.