Cast Iron Baths: 5 Benefits, Maintenance, and Restoration Tips
Posted by BathroomWerx on 14 April 2022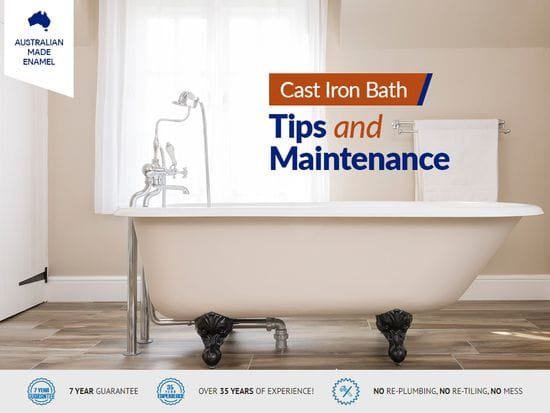 Materials that Australian bathtubs are commonly made of
Australian bathtubs can be made from a variety of materials including:
Porcelain

Acrylic

Ceramic

Copper

Cast iron

Steel
Homeowners, renovators, and bathroom refitters choose between these materials on the following variables: cost, durability, and functionality.
Most commonly, Australian baths are made from porcelain and acrylics because they work well and are cheaper than many alternatives.
Learn more about baths in The Definitive Guide to Choosing Your Next Bathtub.
Are cast iron baths better?
Cast iron bathtubs are a popular choice for Australian homeowners looking for a luxurious or antique feel.
Not only do they look great in traditional colonial homes and modern, but they're also often a great choice to suit functional needs.
The benefits of a cast iron bath
Cast iron bathtubs generally last longer, hold heat longer, and look more luxurious than alternatives. People generally choose cast iron baths because of the following:
Cast iron is a more durable alternative to steel or acrylics. Though they can cost more, cast iron baths usually have a longer lifespan compared to alternatives.

Cast iron bathtubs hold heat longer than alternatives.
Why cast iron baths cost more
In Australia, a cast iron bath could usually cost anywhere between $1000 to $5000 and is typically more expensive compared to other bathtub alternatives like steel, acrylic, and ceramic. That's because cast iron bathtubs are often:
More difficult to make

Harder to transport

More difficult to install
But in the long run, cast iron baths can work out cheaper as they are significantly more resistant to scratches, dents, and other damage. And you could purchase a second-hand cast iron bathtub and restore it using a cast iron bathtub Specialist RestorationService.
Cheap ways to maintain and repair a cast iron bathtub
As mentioned previously, cast iron baths are typically more durable and have longer lives than their alternatives. With a little bit of bathroom upkeep, you can keep your bathtub looking as new as the day you bought it.
How to care for a cast iron bath
All you need to care for and clean your bath is a soft cloth and a gentle cleaning solution. You should clean your bathtub once a week, and give it a quick wipe down after each use.
Keeping a regular cleaning routine will give you an opportunity to check for any damage like chips and cracks. How Much Damage Do Cracked Baths Cause?
Resurfacing your cast iron bathtub
Resurfacing your bath is one of the easiest ways to prolong its life. When you resurface a bathtub, you help to:
Fix and prevent cracks and chips

Prevent mould growth

Keep the surface stable and level
Learn more about the resurfacing and re-enamelling process, like how it works and the process in 6 Common Resurfacing Questions Answered.
Cost to resurface a cast iron bath
With the right care, cast iron bathtubs can outlive almost any alternative bath material. And one of the best ways to maintain it is to re-enamel it occasionally.
Resurfacing also gives you an opportunity to update or change the colour of your cast iron bath.
Resurfacing your cast iron bathtub will often be the cheaper alternative to replacing it. The same goes for resurfacing most bathroom fixtures like sinks, basins, showers, and tiles.
Learn more in How Much Does it Cost to Resurface a Bathroom?
For a specific price guide on resurfacing cast iron baths, contact us or book a consultation online.
Can you restore your cast iron bath?
During your consultation, a Bathroom Werx expert can assess your cast iron bathtub and determine the best solution going forward. Whether that be resurfacing and re enamelling, or restoring it, they can help you.
Want to learn more about your bathroom? Read some more articles from our blog. Or, request an info pack about Bathroom Werx's products and services.
Bathroom Werx has locations surrounding Melbourne, Sydney, Adelaide and Perth and can appraise your bathroom makeover. Call Bathroom Werx at 1800 644 171 to talk to a franchise near you.
Or contact Bathroom Werx online to book your consultation, and request a free quote on your cast iron bath now.