Resurfacing Tips: Baths, Showers, Basins, and Tiles
Posted by BathroomWerx on 13 July 2022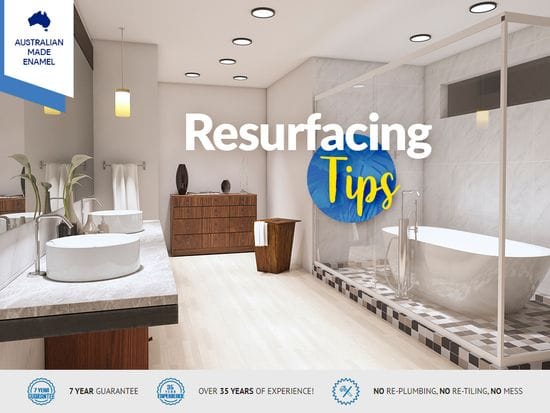 Bath resurfacing
Repairing your bath
Bathtub resurfacing is a simple fix to worn out colours, chips, cracks, and holes.
Often an alternative to completely replacing your bath, resurfacing is usually cheaper and cost-effective. And there's a good chance that you're able to reglaze your bath, too, because the enamel solution can be applied to most common Australian bath materials, like:
Changing the colour of your bath
In under a day, you can have your bathtub an entirely new colour, with a breath of fresh air that will extend its life and keep your bathtub looking great.
With the right provider, you can select from a wide range of colours. Or, you can even colour match existing features in your bathroom.
Tile resurfacing
Fixing cracks in bathroom tiles
Your bathroom is a high-traffic area with constant spills, dribbles, and more. Because of that, cracks in bathroom tiles happen often from plenty of causes.
Fortunately, most chips, cracks, discolourations and more can be fixed with new enamel coatings and reglazing methods.
Australian homes are often tiled with porcelain and similar materials because it's cost-effective and durable. Lucky for Aussies, these materials are simple to re enamel and repair.
Changing the colour of bathroom tiles
As an alternative to replacing, resurfacing can give your bathroom tiles the makeover they've been waiting for.
Without the hassles of removal, tidying, reselecting suitable materials, and installation, resurfacing can completely change the colour of your tiles. The before and after effects speak for themselves.
Resurfacing other fixtures (like your sink and shower)
Fixing cracks and damages
Like your bathroom tiles and your tub, you can resurface other materials and fixtures in your bathroom like your basin and shower.
And also like your tiles and the bath, resurfacing them is usually a cost-effective option compared to replacement, and it can extend their lives, too.
Changing the colours of fixtures in your bathroom
Before and afters of resurfacing show easy ways to change the colour of your bathroom without replacing fixtures like your shower, sink, and others listed above.
If you'd like to see more, check out a gallery.
Resurfacing fixtures in your bathroom at the same time
Is it cheaper to resurface your whole bathroom at the same time?
The price of resurfacing your bathroom will depend on a few factors including the size, existing damage, materials, and more.
But, as the process requires some time and effort, it's usually easier to resurface multiple fixtures and tiles in one go. And on top of that, your bathroom makeover will likely match better with brand new colours created at the same time.
Will it be faster to resurface my whole bathroom at the same time?
Resurfacing multiple fixtures in one go will almost always be faster and easier to do.
That's because there's a bit of prep work involved with applying new coats of glaze and enamel including repairing chips and cracks, and deep-cleaning.
Do some resurfaced areas or fixtures last longer than others?
The life of a resurfaced bath, tile, shower, and vanity, will depend on the frequency of use and ongoing care.
Using an Australian made enamel like Werx Enamel, you can rest easier knowing that it comes with a seven-year guarantee on your newly restored bathroom. The guarantee covers both the cost of labour and materials, giving you the comfort to resurface your bathroom fixtures together.
Book a free quote to resurface your bathroom from the bathtub to shower, to vanity and tiles. Call your local Bathroom Werx on 1800 644 171 or contact us to find your nearest location.