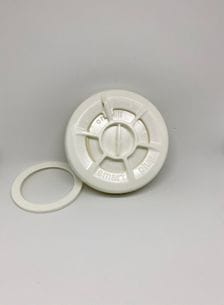 Have the peace of mind knowing your bath and laundry trough will never overflow again...
We've all experienced that moment when your running the bath and you duck out of the room to grab your phone or the kids, of course you get sidetracked, and next thing you know the bathroom is flooding...
With the Smart Plug in yor bath you'll never have to worry about this again.
The smart plug can sense when the bathtub or laundry trough is about to overflow and its self-depressing valve automatically opens, letting water flow down the drain.
Fits a variety of Waste Sizes:
The smart plug has been designed to fit any size bath waste from 40mm to 70mm in diameter. An adapter is included for bath wastes over 50mm in diamter. The adapter fits over the outlet area of the Smart Plug and is designed to hold the plug in position in larger wastes.
Designed for use in Cast Iron Bathtubs, Pressed Steel bathtubs and Laundry Troughs.
Please ensure you select what you are using it for so that we can ensure you get the appropriate plug in your order.