Whats a Container Ship have in Common with a Bathroom?
Written on the 30 June 2017 by George Yammouni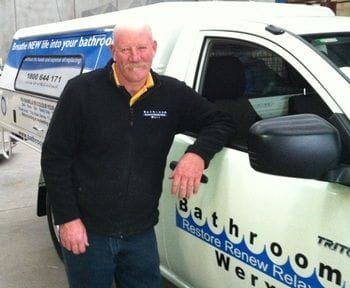 Having worked on some of Melbourne's largest container ships and vessels, Larry Loton brings a wealth of experience to his new Bathroom Werx business.
"This is the sort of business that I have been looking for a long time. I love using my hands to make things and I love the idea of the franchise system providing me with all my work.
That means I can concentrate on doing a great job for my Customers instead of worrying about all the other things involved in running a business! " says Larry.
Larry left school at 16years of age to start an Apprenticeship as a Boiler Maker with a large UK based engineering firm in Footscray where he completed his Apprenticeship.
After 8 years with the firm, Larry moved on when they decided to close their Australian operations. "I learnt a lot from all the old blokes there who gave me some great lessons in the trade and in life in general," says Larry fondly of his time there.
Larry went on to spend the next 10 years working in the Ship Repair business. He was involved in working on all sizes of ships including Oil Tankers, Container Ships, Cement Carriers, and Tugs doing steel plating, pipe working, welding, etc.
The opportunity then arose for Larry to get into his own Ship Repair Engineering business in partnership with nine other people.
"The 10 of us were more like mates than business partners", says Larry. "We were able to grow this business from zero in 1995 to a $7million in five years. At one stage we had 40 people working there".
"The biggest ship we worked on was the Anro Australia 70,000 ton container ship. Repairing the outside hull of a ship is not only fascinating and exciting work but also very dangerous especially climbing into the inside of the hull".
After being in business for 10years, Larry decided to sell his shares to his partners and have a break. He used this time to renovate old Victorian houses in Newport.
His then took a 180degree change in careers and purchased a take away food shop in Braybrook just to try something different.
Eight months later he decided that this wasn't for him as he longed to be back in the trade where he could be making and building things with his hands.
In 2007 Larry then went back to his trade as a Boilermaker for Korebaar Marine. They owned their own tugs and barges and were used for general marine contracting. Larry did all the maintenance on the tugs and barges. He was also involved in building 8x3m work boats to be used for pushing and towing the barges around.
Over the years Larry has also enjoyed doing lead lighting "his Newport house renovations were full of it".
Larry is also a keen golfer. He plays off "scratch" and is a member of Kooringal Golf Club in Altona.
Larry was attracted to Bathroom Werx because of the hands on nature of the work.
He was specifically after something that he could work hard at initially and then back off a bit and have people work for him.
Larry is impressed with all the systems that Bathroom Werx has in place and has found it a very easy transition from his previous role.
"After looking at the experience of the people at Bathroom Werx and then at all the systems they have in place, it was an easy decision to buy a Franchise.
I enjoy doing the work, and I can see a great future for myself in this business".
If you would like more information about the Bathroom Franchise opportunities that are available in your area, call 1800-644-171 and ask for a Franchise Information Package to be rushed out to you or contact us here.