Top 5 Reasons to Resurface Your Bathtub
Posted by BathroomWerx on 13 July 2020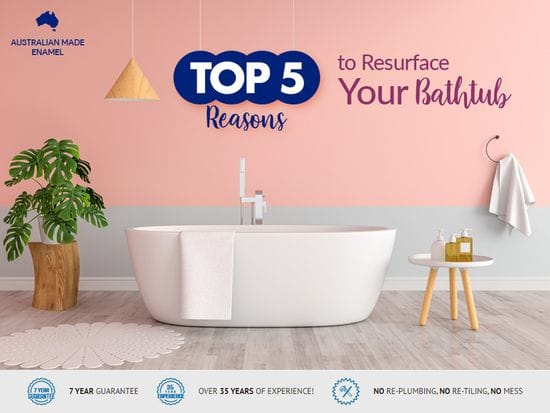 Does your bath look old and worn? Do you find yourself constantly trying to clean your bath without any success? Over the years, using and cleaning your bath wears away the enamel and coating, leaving the surface rough and open to trapping dirt. Ultimately, this leaves your tub looking dirty and off colour. If your bathtub's surface is chipped, worn, damaged or even a few shades different than it used to be, bathtub re-enameling and resurfacing is for you. Let Bathroom Werx explain why.
1. Less hassle, mess & time
Just hearing the words "bathroom renovation" can be daunting - bathroom renovations can be messy, expensive and a long term project. Bathtub resurfacing, however, gives similar outcomes without the hassle and in significantly less time - you'll get an updated, fresh and modern look to your bathroom quickly. Because no re-tiling or re-plumbing is required, the process is generally much faster, less messier and less stress for the homeowner. During the process, grout lines are sealed, reducing the instances of mould, meaning even less stress for you and your family.
2. Easier to keep clean
Once your bathtub has reached the point where it's old and worn, it's difficult to keep clean. It's also a never ending cycle: the more you scrub to try and remove the dirt that's trapped in the rough surfaces, the worse the issue will become. Bathtub resurfacing can fix this issue, leaving you with less cleaning and less back work to put in!
3. Less expensive
Bath re-enamelling is effectively cheaper than a traditional bathroom renovation. As less labour, time and materials are required, you can expect to pay less for your bathroom transformation. While it's less expensive, the results are equally as fantastic. You can view before and after photos of transformations we've done in the past.
4. Environmentally friendly choice
Choosing to resurface rather than replace means updating your bathroom at much less of a detriment to the environment. When you choose to resurface, you're making a conscious choice to eliminate excess waste - resurfacing reduces the need for removing materials such as damaged and removed tiles, pipes or bathtubs and putting them in landfill.
5. Reduces chances of damage to the home
When replacing a bathtub, you run the risk of unintentionally causing damage to other parts of your home - sometimes, this damage isn't even noticeable straight away. Removing an entire bathtub often requires removing other aspects of the home in order to get it out. It also requires removing old pipes and replacing it with new ones which can produce leaks from the water source to the faucet. The last thing anyone wants is a leaking pipe, especially in the walls, running risk of structural damage to the home and the growth of dangerous moulds.
Whether your bath is damaged, outdated or just plain ugly, bathtub resurfacing is the cost-effective, environmentally friendly solution. If you're looking to resurface your bathtub, our team at various locations across Australia are ready to help you transform your bathroom. Contact Bathroom Werx today by calling 1800 644 171 or by emailing us through our contact form.