Ken Tembo talks about how he got into Bathroom Werx
Posted on 1 November 2012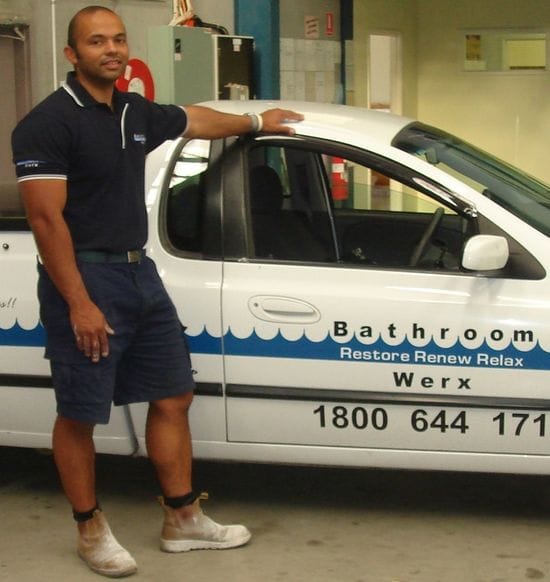 Ken Tembo talks about how he got into a Bathroom Werx Franchisee
You wouldn't normally consider it a promotion to go from the hotel checkout to the hotel bathroom. But for me that's what it was!
I was in the hospitality industry for about 13 years, managing restaurants, bars and staff. To be honest I was just tired of the long hours. I don't mind long hours if you're getting paid, but there is not much overtime in hospitality. I like to be in control of what I do each day, and in a Hotel, I found myself spending most of my day putting out spot fires.
So I decided to look for a career with better hours and more promise.
Having always been pretty creative with my hands, I began doing some renovation work whilst I contemplated my future.
Out of the blue, a big renovation came along for an old Federation style house in my local area. This place had the biggest bathroom I have ever seen. Taking pride of place in the centre of the room was the grand daddy of all bathtubs. This thing must have been at least 100 years old, and weighed a ton!
Problem was my brief was to rip the guts out of the bathroom as the clients wanted to start from scratch.
It was like a piece of art. From the ornate clawed feet, right up to the beautifully curved rim, it still oozed style and luxury! I could visualize needing at least four or five burley lads to move it an inch.
Despite a century of bums getting in and out of this old tub, I was surprised at how few chips and dents it really had. I imagined, once the black bath ring was scrubbed off, this thing would look amazing.
The old bath had such character even with no water in it! I couldn't resist I just had to see what it would be like in this monster bath. I was going to look pretty silly if anyone walked in to find me, but I figured I would just laugh and get out.
As I lay there in the old tub I thought this is no way I can tear this out! Nothing else would do the room justice. So I decided to try to find a way to save the bathtub.
My work brief was to maintain the look and feel of the period, and within a pretty tight budget. I knew what I wanted to do I just had to convince the client.
I began to look around for ways to repair or reuse the claw foot bath, plus the matching pedestal sink, and even the tiles were in good condition. I had tried to take the tiles off the wall earlier, but found they were so well stuck on.
I began investigating how I could reuse or fix-up the bathroom without ripping it all out. This is where I learned about bath resurfacing, and consequently Bathroom Werx Australia.
Having priced a completely new bathroom, I couldn't believe how much the resurfacing was going to save my client. Not only in cost but more importantly time. This job may even turn a profit!
When I showed the client the cost comparison, I knew there and then that old tub was going to get a new lease on life. As with most renovations, they tend to cost twice as much, and take twice as long. I was already behind schedule.
I was wrapped when I was told the entire bathroom resurfacing would be finished in a couple of days.
Three days later I stood back with the Bathroom Werx Technicians and admired the results. The bathroom was pristine white and a real sight to behold.
I really felt liked I had preserved a piece of history. To say my client was happy with the job was an understatement. It turns out that three generations of their family had used the old tub.
I got such a buzz from this one job it got me thinking that maybe I could carve out a little niche for myself in bathroom restoration. The more research I did on bathroom resurfacing, the more I realized I didn't know.
I spoke to my Accountant and Bank Manager for advice. Both grilled me with questions I couldn't answer.
Was I technically trained? Which resurfacing process was I using? What type of products was I going to use? How much did they cost? How long would it take me to do an average bathroom?
How many customers did I need to cover my costs? When would I make a profit? And how was I going to advertise the business?
Well, I tell you, I nearly gave up right there. But I kept thinking of how great the old bathtub came up. Six months later I struck gold.
As fate would have it I found the old job file from the Federation renovation I did, and made a phone call to George at Bathroom Werx in Melbourne for some advice on getting into the industry.
After speaking to George I had all the answers for my Accountant and Bank Manager and I eventually purchased a Bathroom Werx Franchise.
Things have a funny way of working out. Not six months after leaving the hospitality industry behind, I find that my first job is for none other than a local HOTEL!
After 5 years of running my own Bathroom Werx Franchise in the Geelong area, I still love my work and have not looked back. I am proud to be known as the owner of the Geelong Bathroom Werx Franchise.
After listening to Ken's story, we asked him more about Bathroom Werx:
1. What attracted you to a Bathroom Werx Franchise?
"Well the premise of franchising is great. I get to do what I am good at, which is keeping the customers in my area happy, and Bathroom Werx looks after the rest. It's great to know tat you have a huge team of people to fallback on for advice and support anytime I need it. This works extremely well for me."
2. How have you found the challenge of renovating bathrooms compared to what you used to do?
"I'm a different person in this job. I come home satisfied at the end of every day. When the customer sees their "newly" resurfaced bathroom for the first time, they beam with excitement.
I'm much happier and find my work really satisfying. I know I have a tangible business that really adds value to people's homes. It's so different to working for someone else. Now I am always recognized and thanked for the effort I put in to go the extra mile!
No two jobs are the same, so I pretty much learn something new everyday, and I always have support from the training manager and team at head office. They are just a phone call away. It gives me piece of mind to know I have backup.
My wife and kids are absolutely ecstatic with my decision to go into business for myself. I control my own hours, which means I can provide the family with quality time."
3. What are the good things about being a partner in a Bathroom Werx Franchise System?
"First of all it is a proven system that is over 25years old. As long as you follow the system you won't have any worries. It works every time. The lines of communication and information between head office and myself are always open. And it's a two way street, we feed off each other's success, like one big team. Good work reflects well on everybody.
I also appreciate the wealth of knowledge the other franchisees provide to continuous improvement. When I come across something tricky I have other franchisees that are more than willing to share their experience, or even lend a hand. The people infrastructure is what makes Bathroom Werx great!"
4. What are the negatives?
"I haven't seen a negative yet. I suppose after 25 years the Bathroom Werx system has all the bases covered!"
5. What are your plans for the future?
"I would like to take on an apprentice in the next 12 months. Eventually, I would like two guys working from Geelong to the Surf Coast and to the Bellarine Peninsula. I guess my future plans could be summed up in one word, GROWTH!"
You can also learn more about Bathroom Werx's bathroom renovation and resurfacing services near you by clicking the links below:
If you would like more information about the Bathroom Franchise opportunities that are available in your area,
call 1800-644-171 and ask for a Franchise Information Package to be rushed out to you or contact us here.