Easy Remodeling Tips For Your Bathroom
Posted on 26 February 2021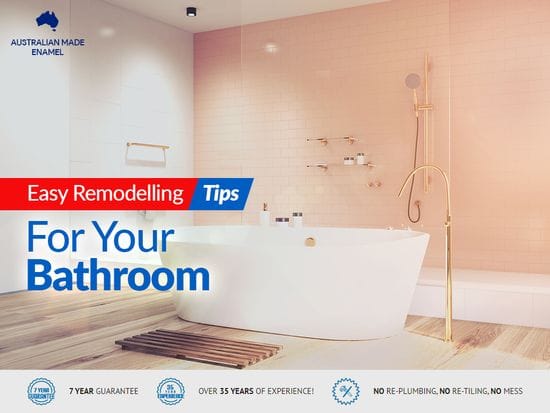 When it comes to remodeling your bathroom, many people are put off by the effort and financial burdens of doing so.
However, an updated bathroom can make for a more enjoyable experience for those living in the home. An updated bathroom can also boost the value of a home - though subconsciously, we're drawn to bathrooms that are more thoughtfully designed to meet the needs of those who use it.
For this reason, we've put together some quick tips on how you can easily remodel your bathroom.
Having a plan seems like an obvious step but it's one often overlooked while rushing into making changes. However, having a plan will keep you on track and on budget while also fulfilling your needs and wants during the remodel.
Bathroom renovations can chew through thousands of dollars very quickly. As with any renovation, the budget is important because it doesn't take much for it to blow out of proportion. Setting the most you can spend without straining your finances. If your budget is small, that doesn't mean renovation is off the table - there's several other options for renovations that'll transform your bathroom while keeping your budget in check.
With Bathroom Werx, you can save thousands through alternative remodelling techniques.
It's amazing what a new coat of paint can do in transforming the look and feel of a room. Whether you choose to re-paint with the same colour or try something different, you'll find the room feeling brand new.
The bathroom, which is most often the smallest room in the home, experiences changes in moisture and temperature that encourage mould. For this reason, it's important to consider using high quality, specifically designed bathroom paints.
These types of bathroom paint reduce the opportunity for mould growth on the walls within the bathroom. Additionally, paint is a really effective method of transforming a room while also being one of the cheapest options.
Even the most minor damage in the bathroom can look unsightly. Major damage often requires complete replacement, however, other cost-effective alternatives exist that produce equally as impressive results.
Whether you have chips, scratches, stains or cracks, a reputable bathroom repair service can help. It's a more economical solution to damage and can be used across most bathtubs, basins, bench tops, toilet bowls, shower bases, spa baths and even tiles.
Redo instead of buying new
Replacing an entire tub or shower is generally a very expensive option - the good news is, there's alternatives that will save you a pretty penny. Having your bathtub professionally re-enameled or your shower base re-surfaced is a much cheaper option, while giving you a refreshed, new look.
Not only can you save money re-doing rather than buying new, you can also save time. Resurfacing bathtubs and shower floors means you don't have to go through the hassle of ripping up tiles or involving any of the plumbing. It's also a more eco-friendly option!
If you're looking to remodel your bathroom with ease, get in touch with the experts in restoration and renewal projects - we're here to help bring your bathroom back to life. Contact us today on 1800 644 171 or by emailing us through our contact forms.