5 Ways To Make Your Bathroom More Relaxing
Posted by BathroomWerx on 21 December 2020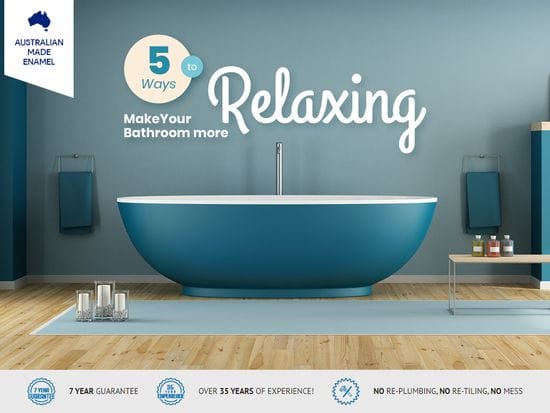 At the end of a long hard day, sometimes all you want to do is unwind and relax. The bathroom should be a space where you're able to do just that. If your bathroom is dark and uninviting, there are some simple and easy solutions to create a space more welcoming.
1. Take a minimalist approach
Messy spaces are overwhelming, too much stimuli causes unnecessary stress. With the sheer amount of product we tend to store in our bathrooms, it's no wonder they can end up with clutter and mess. Decreasing this clutter is an easy step towards increasing the aura of relaxation in your bathroom.
Keeping only the essentials and removing the rest will free up space. Implementing a simple organisation routine and storage system for your toiletries, towels and toilet paper will help you keep on top a usually forgettable chore. It's also beneficial to keep cleaning products nearby in order to have messes cleaned up as soon as possible, keeping it from getting out of hand. If you have occasionally forgotten to clean your bath and it's now showing cracks or general wear and tear, we can help. Contact our team so you can start relaxing sooner.
2. Add natural light
Natural light is known to improve perceived levels of comfort, which is obviously very helpful to creating a relaxed environment. While maintaining privacy is often the reason natural light is blocked out from a bathroom, there are options that allow you to have the best of both worlds.
Patterned glass is one way to maintain privacy while allowing in natural light. If natural light isn't available in your bathroom, you can opt to enhance by keeping the space bright with colour and efficient lighting features.
3. Include other relaxation tools
Invigorating the sense of smell in a positive manner can drastically change the perception of a room and the emotional response to the space. The benefits of aromatherapy have been acknowledged for thousands of years and are still popular in modern society. Through essential oils, diffusers or candles, you can implement the relaxing benefits of calming oils or relaxing candles.
4. Consider natural elements
Materials that appear more natural are renowned for having a more calming effect on people - this is why they're most often the materials used in spas. Known as biophilic design, the incorporation of nature into spaces helps boost wellness and subliminally connects you to the outdoors. Overall the effect created is relaxation!
5. Install a rainhead
The sounds, smells and coziness associated with rainfall is considered calming to a lot of people. Bringing a relaxing element into the bathroom is possible with rainfall showerheads which mimic this sense of peace. It also brings the feeling of nature inside as well. Unlike your traditional showerhead, a rainfall showerhead provides a wider stream of water flow that covers more of the body, providing warmth all over. The design gives a consistent water flow, allowing you to clear your mind and take in the peaceful atmosphere.
With these simple tips, you can bring more peace and relaxation into your bathroom, allowing you to de-stress and rejuvenate. If you're wanting to spice up your bathroom with re-enamelling or tile repair, contact us today by calling 1800 644 171 or by clicking here.