4 Cleaning Hacks For Your Bathroom
Posted on 20 January 2021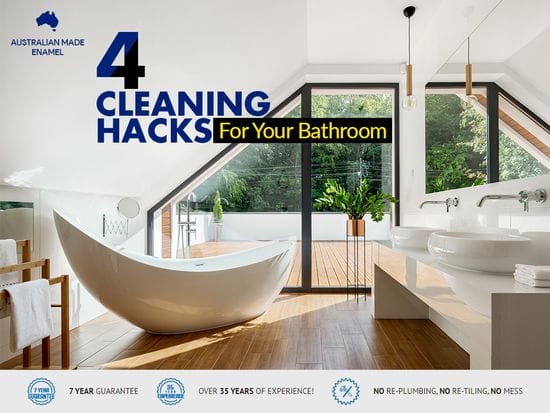 Cleaning the bathroom isn't always the most exciting of household duties and not a task most people enjoy spending a lot of their spare time on. Regardless, it's important to keep your bathroom clean for the health of your household.
With this in mind, we've compiled a list of some simple cleaning hacks designed to make your life easier, saving you precious time and energy.
These options are also natural alternatives to chemicals - all with the ability to get the job done while also being environmentally friendly.
1) Shaving Foam
Cleaning and demisting mirrors with shaving foam is an effective way to keep them from fogging up. While it may seem an unusual measure to take, simply spraying shaving foam and using a lint-free cloth to remove it will give you a steam proof mirror.
This simple method can last for around two to three weeks!
2) Black Tea
If you're looking for a natural alternative to clean your shower screens, black tea can do the trick. By placing 3-4 black tea bags in a jug for 5 minutes, then transferring to a spray bottle, you've got yourself an easy, yet effective cleaning alternative.
This cleaner should cut through any grime of shower scum. It's also helpful to keep a squeegee on hand for after showers to avoid any build ups.
3) Water & Rubbing Alcohol
If hazy bathroom windows are an issue for you, give a mixture of water and rubbing alcohol a go. To try, you'll need a mixture of one part water and half part rubbing alcohol poured into a spray bottle that contains two parts of water.
This combination creates an effective window cleaner with the ability to cut through any buildups you might have. A lint-free cloth will ensure you have the most streak free windows possible.
4) Bi-Carb Soda
Bi-carb soda is a versatile alternative to cleaning your bathrooms. With bi-carb soda on hand, you can attend to a variety of bathroom issues.
If you're experiencing a shower curtain with a mildew and mould issue, bi-carb soda will help you. By mixing a cup of bi-carb soda in a washing load and one cup of white finger with your shower curtain, you can fix your dirty shower curtain. Before putting it back in your bathroom, ensure it's been hung out to dry completely. Of course, if it appears your shower curtain has some irreparable rips and tears, perhaps it's just time to replace it or consider installing a shower screen instead.
Additionally, you can use the bi-carb soda and vinegar mixture to give your toilet a sparkling shine. Pour the mixture around the toilet, leaving it sit for 10-15 minutes before giving it a scrub and then flushing away the excess.
It goes without saying that when cleaning your bathroom, use your best judgement - if something can't be fixed through cleaning, it's possible replacing is the better option. Alternatively, if you're looking to spruce up your bathroom, our team of bathroom specialists offer premier bathroom detailing services contact us today by calling 1800 644 171 or by clicking here.