From Designing Clothes to Bathroom Makeovers
Written on the 8 June 2017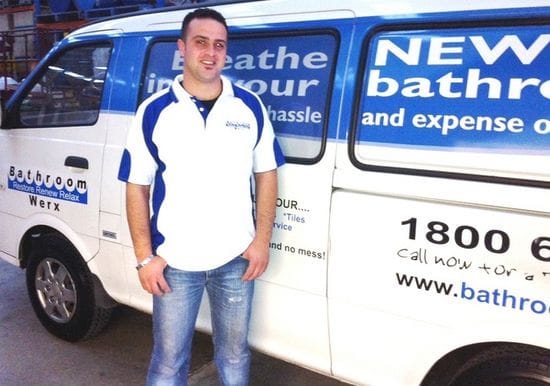 What makes a man leave his country, family and friends to migrate all the way to Australia?
The latest addition to the Bathroom Werx Team in Sydney, Ali Hamadi, has done just that.
He migrated to Australia in 2007 from Lebanon. Ali is a qualified Graphic Designer and previously owned a designer children's wear clothing and shoe store in Beirut.
Shortly after marrying, the young couple decided to migrate to Australia so that they could get away from the troubles of the middle east and be able to raise their children in a safe environment that offered more opportunities for their future.
Shortly after arriving in Australia, Ali got a job with one of our Bathroom Werx Franchisees in Sydney. It didn't take him long to learn the trade before he was out on his own as a full time Technician.
When the opportunity arose to buy his own Franchise in Sydney, Ali jumped at the chance. "It is in my blood to own my own business so I very pleased when I was accepted to become a Franchisee!"
"Bathroom Werx runs a very good system which makes it easy for me as a Franchisee to concentrate on the work that I am doing so that my Customers end up with a great job. I have been in business before in Beirut and I know all the work that goes into running a business and how overwhelming it can be when you are trying to do it all yourself."
"Sometimes you end up doing more admin work that makes you no money instead of being in front of Customers serving them and putting money in the till. That's what attracted me to Bathroom Werx they make being in business so easy" says Ali.
At 28 years of age, Ali is one of the youngest Franchise owners in the Group. He passionate about his business and many Customers have already commented on the quality of his work and his excellent Customer Service skills.
"I enjoy making bathrooms look like new again. And I enjoy it when I see the big smile on my Customers faces when I show them their new bathroom after I have finished."
"And I love owning my own business!"
If you would like more information about the Bathroom Franchise opportunities that are available in your area, call 1800-644-171 and ask for a Franchise Information Package to be rushed out to you or contact us here.